---

The QXBP is a panel mount single-slot rack and power supply for modules with the TSX Quantum form factor and backplane connector. It is primarily intended to be used to power Niobrara's QUCM communications modules while minimizing panel real estate usage.

The QXBP operates on 10 to 24 volts of either AC or DC power. It is available as the QXBP-001, supplied with an AC transformer for connection to a 120VAC power source, and the QXBP-002, supplied without a transformer, for connection to a suitable existing power source.

Since the QXBP is a single slot rack, modules mounted therein cannot utilize backplane communications.
QXBP Mounting Instructions
The QXBP is designed for panel surface mounting with the module perpendicular to the mounting surface. Determine where the QXBP is to be mounted. If using the QXBP-001 (with 120VAC transformer), the mounting position must be less than six feet from a 120VAC outlet.

Orient the QXBP so that the power input connector is a the top of the installation. Proper vertical orientation is important because the modules are cooled by airflow from bottom to top.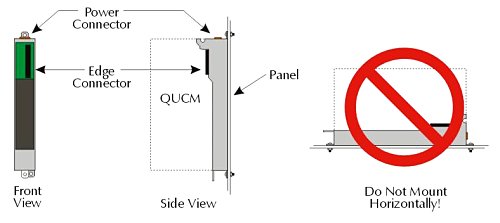 Use the QXBP as a template to mark the location of the mounting holes. Drill holes for the mounting bolts or screws (#10 recommended) and mount the QXBP to the panel.
Module Installation
Module installation is performed in the same way as with any Quantum rack. Place the cylindrical ears of the module into the cradle and lower module into position. Attach and tighten lock bolt at bottom of module.

If using the QXBP-001, plug the transformer's orange connector into the orange power connector of the QXBP and plug the transformer into a 120VAC outlet. If using the QXBP-002, connect an available 10-24 VAC or DC power source (polarity unimportant) to the removable part of the orange connector, then plug the orange connector into the orange power connector of the QXBP. Tighten the keeper screw into the power connector. The module is now ready for use.
SPECIFICATIONS:
Dimensions: 1.6" wide x 10.5" tall x 1.8" deep (40 x 266 x 45 mm). Approximately 11.1 ounces (316g) net. Rugged welded steel enclosure with baked on finish.
Power Requirements: 10-24 VAC or DC; 1A max.
Output to Module: 5VDC; 1A max.
Transformer Output: 12VAC; 1A max.
Power Connector: Weidmuller SLA-2B locking 2-position.
Operating Conditions: 0 to 50 degrees C operating temperature; -40 to 80 degrees C storage. Humidity up to 90% noncondensing. Pressure altitude -200 to +10,000 feet MSL.
---
ORDERING INFORMATION
The QXBP is available as:
QXBP-001
with 120VAC transformer
QXBP-002
without transformer
---