---
Hot Modbus Plus Video
Download the WMV version
Download the WMV version

Click here for a companion manual for the MEBII setup video.

Description The MEBII is a Unity compatible, fully functional, bi-directional Modbus Plus to Ethernet bridge. Devices on either network can access devices on the other network. This network traffic can be programming commands as well as I/O and register data. In addition, the MEB-RT can act as:
DIN rail mount
- Easy to install
24VDC Opeation
Dual Cable Modbus Plus
- Also works with single cable systems
Built-in Web Server for configuration
100BaseT RJ45 Ethernet port
Optional second 100BaseT RJ45 Ethernet port
Two Isolated serial ports
- each selectable between RS-232 (RJ-45) and RS-485 (5-position screw terminal)
LCD Dispaly and keypad
- Easy setup from the front panel
Automatic Modbus/TCP and Modbus serial routing table configuration
Data Concentrator
- Serial Auto-transfer, MB+ Global data, E-Peer, Modbus/TCP I/O Scanner
Ethernet Gateway or MUX
- Modbus (RTU or ASCII, Master or Slave), SY/MAX, RNIM, PNIM
Legacy SY/MAX support
- SY/MAX 802.3 Ethernet, SY/MAX serial, Net-to-Net, PNIM, RNIM
Hot Modbus Plus - Fully Redundant paired operation
The MEBII replaces all previous versions of the MEB, MEB-TCP, and MEB-RT. It has at least one 100BaseT RJ45 Ethernet port and a redundant-cable Modbus Plus port. The Modbus Plus port works with single- or redundant-cable Modbus Plus networks.

---

Front Panel Operation The MEBII includes a 5-button keypad and a password protected LCD screen. Nearly all Etherent, MB+, and serial port settings may be inspected and modified from the front panel. View statistical information about each of the ports, check firmware versions, even reset the unit to factory defaults without a PC.
Set the IP Address





Set the MB+ Drop




View other MB+ nodes




---

Modbus Router The MEBII can route messages between Modbus/TCP Ethernet, Modbus Plus, and Modbus Serial (RTU or ASCII); all at the same time. The Ethernet port may be a client and server. The serial ports may be connected to masters or slaves. Any master can communicate with any slave on any other port. These masters may be a programming package such as Unity Pro, Concept, or ProWORX.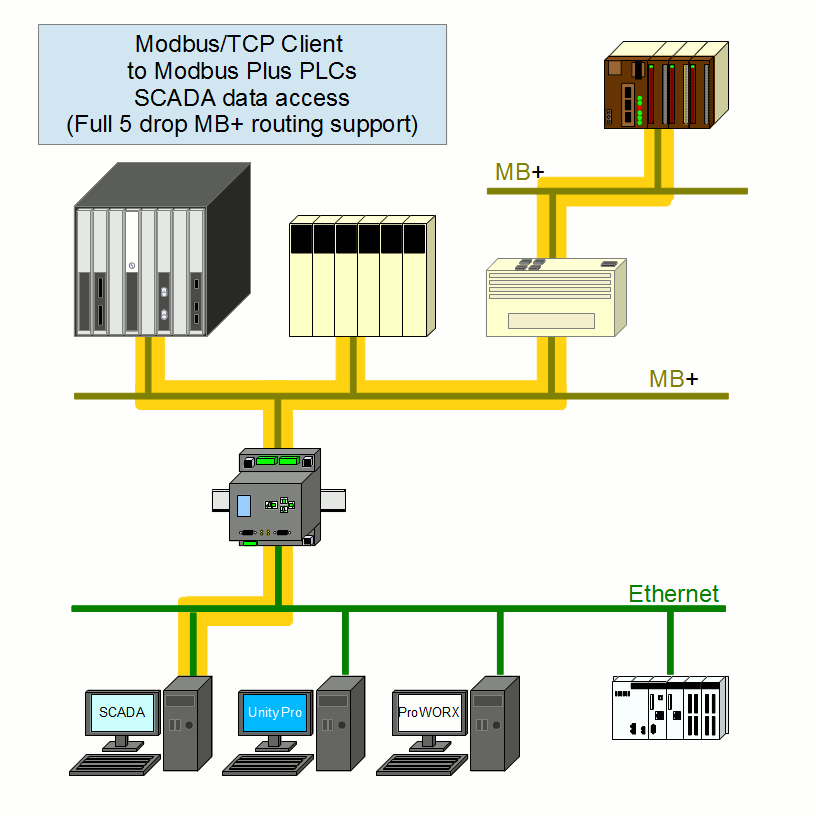 ---

Web Server The MEBII includes a Web Server for configuration and troubleshooting using a standard browser.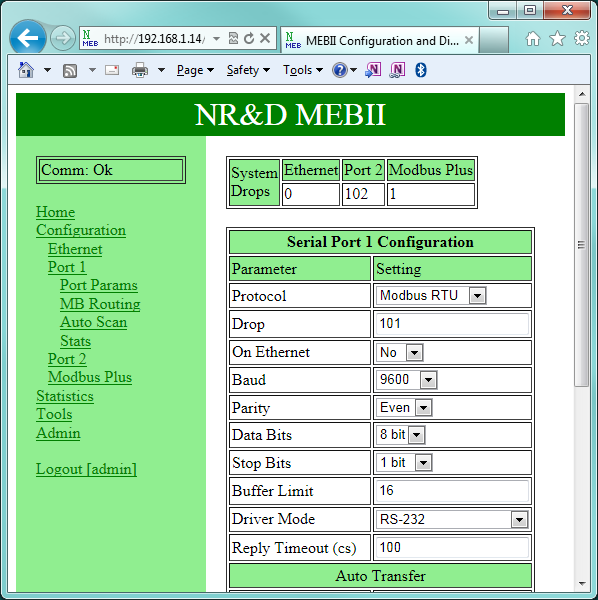 ---

Hot Modbus Plus A pair of MEBII units may be configured for "Hot Modbus Plus" operation for high availability bridging systems thus eliminating any single point of failure.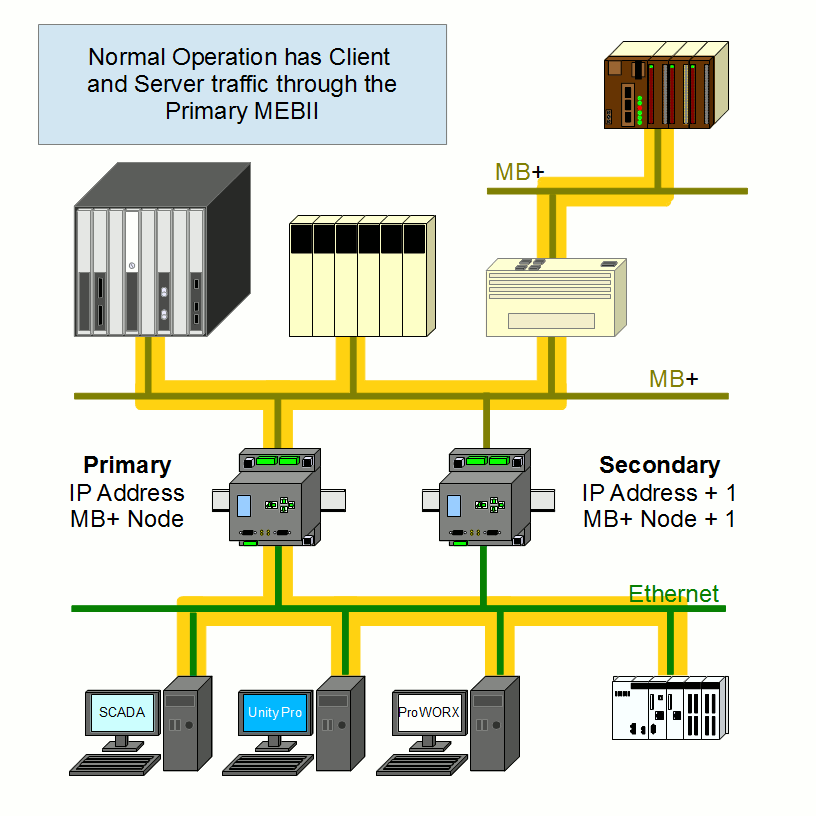 ---

Legacy SY/MAX Operation The MEBII supports legacy Square D SY/MAX communication including Ethernet and serial. The Ethernet port may be configured to operate in a combined Modbus/TCP and SY/MAX mode providing high speed bridging between Quantum NOEs and Model 650 and 450 PLCs. SY/MAX serial, PNIM, Net-to-Net, and RNIM protocols are all supported to tie in older SY/NET equipment with a newer Modbus system.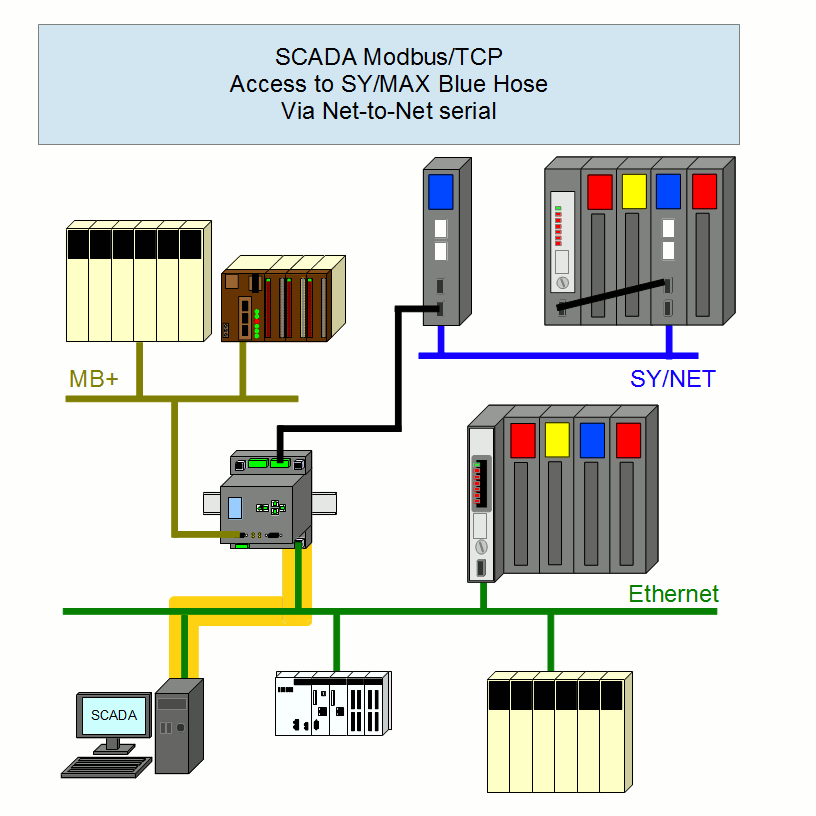 ---
Ordering Information
The MEBII is available as:
* MEBII+001 with 2 isolated RS-232/RS-485 ports, 1 Dual Cable Modbus Plus port, 1 Ethernet port (RJ45 100BaseT connector).
* MEBII+201 with 2 isolated RS-232/RS-485 ports, 1 Dual Cable Modbus Plus port, 2 Ethernet ports (RJ45 100BaseT connectors).

---
Related Equipment
The MEBII has the following equipment available:
* MM1 RS-232 cable for connecting to a 9-pin PC serial port.
* MU7 RS-422 cable for connecting to a 9-pin SY/MAX serial port.
* TR121ST 120VAC (US) wall mount power supply.

---
Specifications
Warranty / Manual: The MEBII is furnished with a user manual on cd and carries a one year warranty from the date of shipment. During the warranty period, free firmware upgrades are available. See Niobrara's Standard Terms and Conditions of Sale for additional warranty information.
Dimensions: DIN rail mount 4.4" wide by 4.4" tall by 3.5" deep. Approximately 1.2 pounds net.
Power Requirements: 9-30VDC 6W - 3 position removable connector is provided.
Indicators:
Module: LCD with backlight and two red LEDs for error
Serial Ports: Transmit and Receive for each port
Ethernet: Link/Activity, 10/100
Modbus Plus: Active, Channel A Error, Channel B Error
Modbus Plus Ports: Front mounted dual cable Modbus Plus port with two DB9 female connectors with screw-lock posts. Standard MB+ pinout. Global Data compatible.
Ethernet Ports: 10/100BaseT port with RJ45 connector on bottom of unit. Modbus/TCP and/or SY/MAX 802.3 protocols. E-Peer compatible. Web Server. MEB+201 includes two 100BaseT ports, RST supported copper ring or daisy chain connection.
Serial Ports: Two isolated ports selectable between RS-232 (RJ45 connector) and RS-485 (5 position removable screw terminal is provided). Independently configurable for baud rate, data bits, parity, stop bits, and protocol. RS-485 mode is 2- and 4-wire compatible.
Serial Port Modes: Each serial port can independently operate in any of the following modes: Modbus (RTU or ASCII, Master or Slave), SY/MAX; Net-to-Net; Peripheral; PLogic; Multidrop; IDEC; Gateway; Transparent; Share; PNIM; RNIM (Master or Slave); Transfer; Chevron. Dual slave.
Setup Registers: Module configuration is stored in internal registers and is compatible with older MEB-RT models. These setup registers can be accessed through any of the MEB's ports (in most modes). Configuration is restored from FLASH memory after a power cycle.
Environmental:Operating conditions are 0-50C; humidity up to 90% noncondensing; pressure altitude -200 to +10,000 ft MSL.

Effective 15 January 2013 - Specifications subject to change without notice.