---
Download the WMV version

Click here for a companion manual for the CERI video.


The Niobrara R&D CERI Module is a Compact Ethernet Remote Interface. It replaces the CPU or DEA-202 interface in a Compact Primary Rack and maps its I/O to Modbus/TCP. The CERI can then be controlled via Ethernet from another PLC or SCADA. This allows updating the controller to a newer platform while retaining existing Compact racks and I/O.

The CERI includes an LCD display with a 5-button keypad. The LCD display and keypad allow access to basic configuration functions such as setting the IP address. The LCD also aids in diagnostics by displaying status and statistics on the front panel. The CERI also includes a 3.0A power supply to power the Compact main rack and expansion racks with integrated Power and Overload indicators and an ON/OFF switch.

Upgrading from any Compact processor to a Unity Pro or Concept supported PLC is as simple as adding entries to the Quantum's (or Premium or M340 or Momentum) Ethernet I/O Scanner for each CERI controlled rack. The CERI's powerful internal register mapper may be configured using a standard web browser. This mapper allows the Compact input and output modules to be logically grouped together to minimize the number of Modbus/TCP messages required for control. Most systems will only need a single combination read+write I/O Scanner entry per CERI. Each output register has its own default value that the CERI provides when there is a loss of remote control.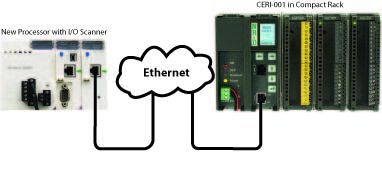 Several features of the CERI address security concerns. The potential Ethernet master of the CERI is limited to a list of allowed IP addresses. The keypad on the front panel may be password protected and allows the rack to be halted or memory protected to prevent unwanted modifications to the configuration through the Ethernet network. The configuration is stored in Flash memory for retention during long term power outages. This feature allows the creation of a spare unit, fully configured and ready for immediate use as a replacement.
The 10/100BaseT Ethernet port provides a standard Cat5 connection to the LAN. A standard RJ-45 Modicon pinout RS-232 serial port supports Modbus/RTU protocol.
Features
Upgrade Compact control system without rewiring I/O
Flexible register mapper allows I/O to be arranged logically
Automatic expansion of multiplexed registers on analog modules
Reverts to default values on loss of communication
Supports the combined Read+Write message from Modicon PLC I/O Scanners
Supports a list of four allowed controlling IP Addresses
Default values configurable for every output word
Configuration stored in Flash memory
Supports I/O in up to three Extension Racks
Web interface for configuration and troubleshooting
LCD display for diagnostics and configuration
5-button keypad for control interaction
Power ON/OFF switch
Removable power connector
Supported Compact Modules
Analog/Speciality: ADU204, ADU205, ADU206, ADU210, ADU211, ADU212, ADU216, ADU254, ADU256, ADU257, BKF201, CUCM001, DAU202, DAU204, DAU208, DAU252, MOT201, MOT202, ZAE201, ZAE204

Discrete: DAO216, DAP204, DAP208, DAP209, DAP210 DAP211, DAP212, DAP216, DAP217, DAP218, DAP220, DAP250, DAP252, DAP253, DAP258, DAP292, DEO216, DEP208, DEP209, DEP210, DEP211, DEP214, DEP215, DEP216, DEP217, DEP218, DEP220, DEP254, DEP256, DEP257, DEP296, DEP297
Ordering Information
The CERI is available as:
CERI-001 with one 100BaseT Ethernet port and 3.0A power supply
---
Effective 04 May 2009 - Specifications subject to change without notice.